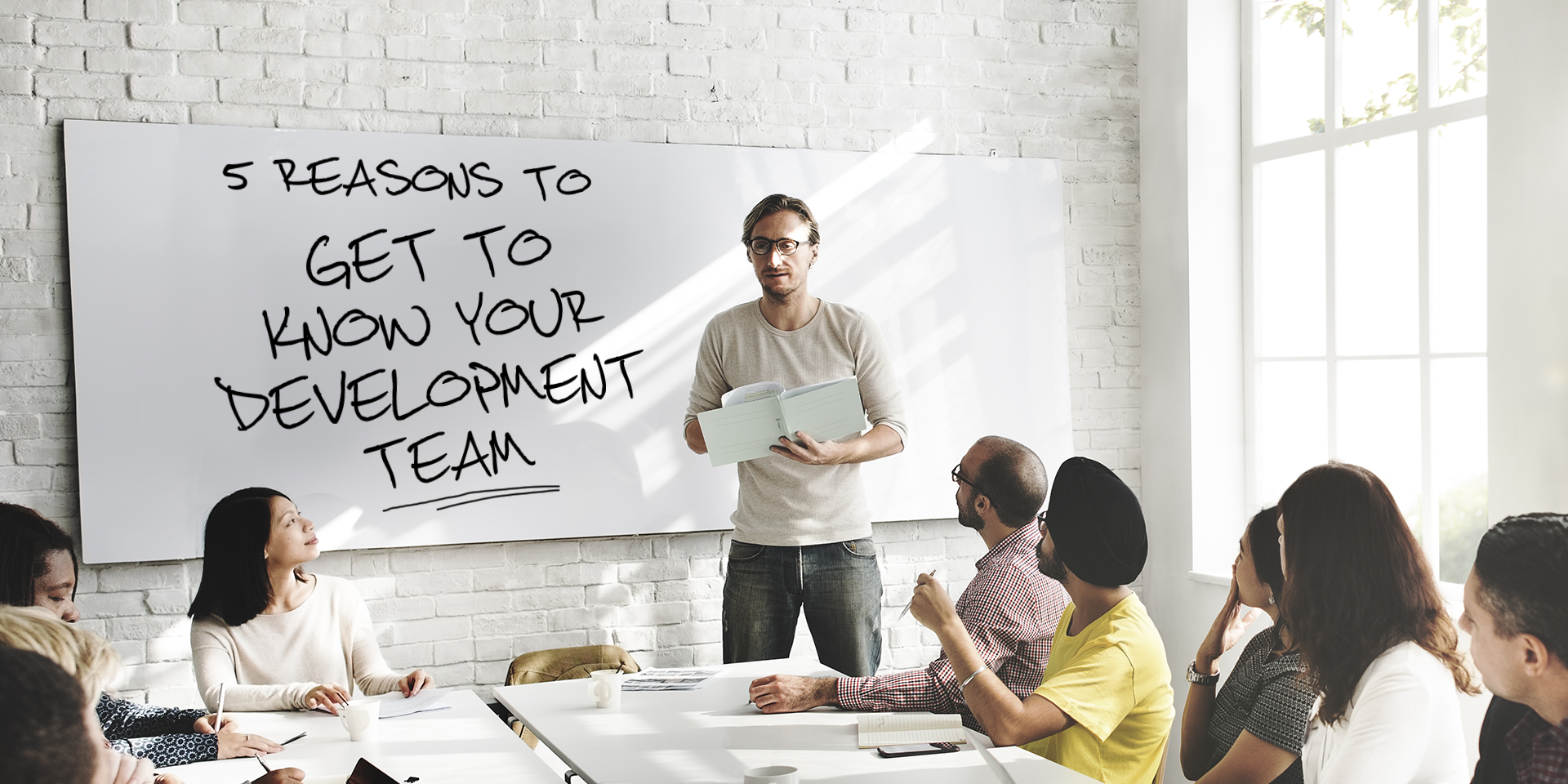 5 Reasons to Get to Know Your Development Team
In the world of digital development and marketing, it is pretty common that most people are not aware of what other departments do. Let's face it, in today's world, people are often locked into their own task lists and responsibilities and tend to keep a narrow field of view through the work day. Why does it make sense for someone to seemingly waste their time trying to stay up on things that other teams are doing when it does not immediately benefit them?
Let's touch on 5 Reasons to Get to Know your Development Team, as well as company teams. For the purpose of this article, we will focus primarily on development teams, but this could easily apply to teams of all types and sizes.
1. Communication
If you know anything about startups or agencies, you will know that it is a challenge every week to stay on top of things. That challenge is no less difficult with large product teams or any type of team. Development teams are sometimes all over the place, working on many things at the same time and pushing extra hard to meet strenuous deadlines. Without working production schedules and project coordination, developers who are often left to their own vices don't typically pay much mind to what is in the "sales pipeline" or what is the next big feature being planned by marketing and design. They often live in execution, planning or research modes and that is, for the most part, where their time is best served.
So how do we improve communication with our development team?
A unique approach that can be taken on this is to invite your production teams to present on topics they care about. This could be once a week, once a month or even during lunches throughout the month, whatever works best with your production schedule. Not only does this improve communication from within the company, but also lends to the improvement of soft-skills for the ones giving the presentation. Presenting is hard, it is often uncomfortable for people who are more introverted and usually do not get up in front of others to try to speak confidently and eloquently. Encouraging team members in a supportive way to break out of their shell is not only great for the team, but also great for the individual.

2. Upselling
An often overlooked aspect of better team interaction is the increased knowledge of the entire team as a whole. For this topic, we are going reference The Flynn Effect to ponder on this topic.
As found on Wikipedia: "The Flynn Effect is the tendency of IQ scores to change over time, and specifically, the apparent increase in intelligence in the general population evidenced by a steady increase in IQ scores. It was first noticed by James Flynn. Average IQ scores have been steadily increasing every generation. IQ scores are not absolute numbers, but rather, comparisons with the general population." In a loose sense, the example of the Flynn Effect is simply to point out why it is better to spend time to educate your peers.
One great example of why you should try this is Upselling. If your co-workers have a better understanding of what your team does, they will inherently be more capable of speaking on your behalf or upselling for your team. When a potential client calls into your company, you would like to think that whoever answers the phone is knowledgeable enough about what your company or product offers to make suggestions that might lead to business. Most companies generally rely on dedicated sales teams for this, but in companies where the sales team is lackluster or non-existent, this responsibility often falls on potentially untrained staff to come up with an answer. If your staff interacts with each department on a regular basis, they will have the knowledge to sell potential clients on the services you offer.
3. Personal Benefit
For this topic, I highly recommend this video:
In the video above titled, "A selfish argument for making the world a better place.", the authors discuss some pretty interesting views on how to look at your interaction with the world. Let's take a look at the summary of the video – which states: "Innovation is driven by supply and demand. Supply goes up when more people around the world are educated and become inventors, scientists, engineers, and thinkers. Demand increases as people's wealth increases and they have the means to buy new solutions to their problems. The increased supply and demand result in more innovation. So if you want nice things for yourself, you should start by helping everyone on the planet be able to have nice things, too."
In reference to our topic, this is wholeheartedly applicable. It could personally benefit you to get to know your development team, or any department in your company for that matter. Not only will it help improve communication, but you will also become more aware of key things that you may have not known before. By becoming more aware, you begin to learn how things work within your company a little more each time. You even begin to see issues in your clients and other businesses as well. As you test this idea within your company, take a humble approach and try to find some way to mentally gauge what value this is bringing to you as an employee. You should begin to notice that processes become more efficient, meetings become less and shorter in nature, employees understand each other better and you are crafting higher quality products.
4. Culture
Culture defines the environment of a workplace and how it affects employees. Without a great company culture, it is likely that you will experience toxic work environments. Negative employees can directly result in poor overall quality of work. By making time to speak to members of your team, whether business related or not, you are establishing repertoire amongst your peers. You will become more aware of how they work, when they work and what they like to work on while also becoming more aware of who they are as individuals.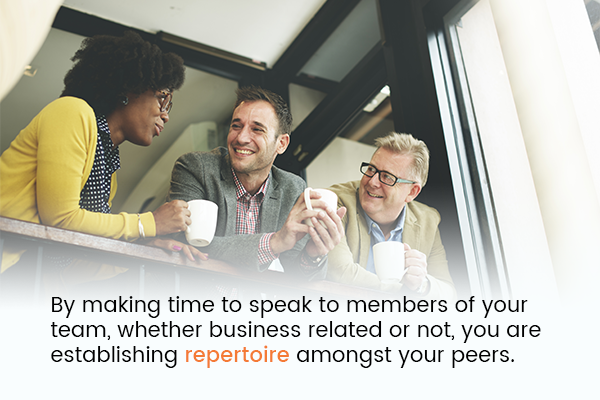 In terms of developers, you will learn that they love tech and they love to talk about it. Most people tend to brush off tech talk as stuff only developers should be talking about but this is not true. We are all greatly impacted by technology on a daily basis and thus should have at least elementary knowledge of its application and effects in the real world. Discussion around tech and non-tech is always a good sign of a transparent and tight team.
For you developers reading this article: it goes both ways. Developers should also be willing to take time to educate their co-workers. Developers are commonly described as introverts, but after years of working with development teams I have learned that is not always the case. Developers are all over the spectrum and are not as typically defined as you may think. People genuinely care about what they do or otherwise, they just would not do it. Next time you enter into a conversation with a coworker, take the time to actually absorb what they are saying. Even if you do not immediately find it interesting or relevant, you will realize that a little attention and empathy goes a long way.
5. And Finally, Profit
This is the easiest one to explain. If you practice the concepts outlined above, there is a good chance you will start to see this impact your bottom line in the long run. Teams that communicate and understand each other will do great work and have better work environments. Great work will bring more clients and great workplaces will attract the talent to execute.
Take a minute to evaluate your position. How well do you know your co-workers? How many times in just the past two weeks have you maybe brushed someone off or some conversation off because you were "too busy" or "didn't find the topic interesting or relevant"? A great practice to help with this is to always practice Attentive Listening. Attentive listening is easy and is something everyone should practice in team or client meetings. When a client or co-worker is presenting something to you, it is incredibly unproductive and rude to be on the computer working on emails, writing someone on Slack or even just browsing the internet. Just don't do it! Be engaged, be active, contribute to the conversation, take notes, or at least sit and listen.
At the end of the day, business is about profit. If developers are not creating great work then the company is not likely to be profitable. To create great work, you must have a capable team who communicates and understands each other well. Make your business more successful by fostering a work environment of community and understanding, and engaging your team with new ideas.