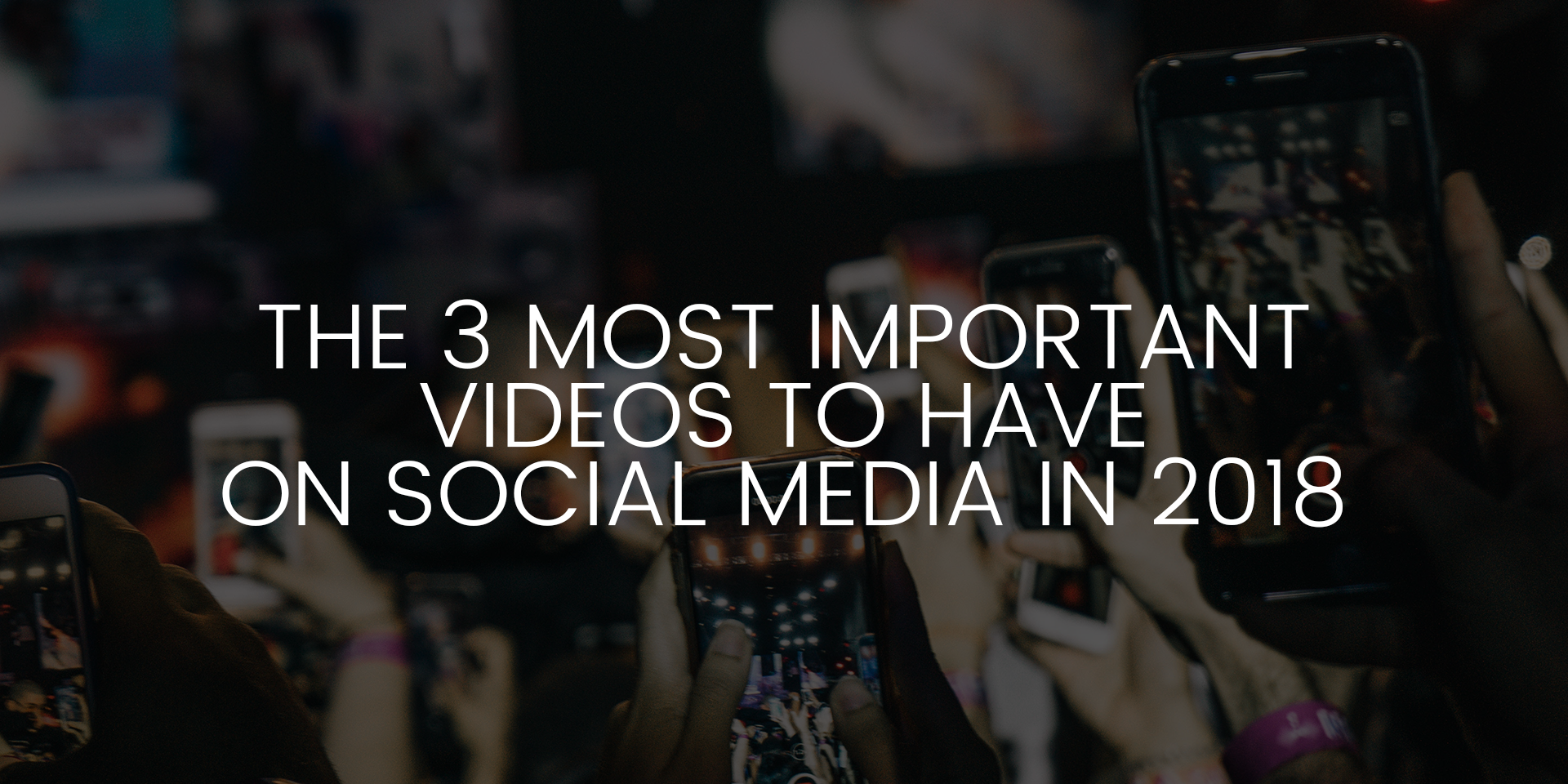 The 3 'Must Have' Videos for Your Social Media Presence in 2018
Regardless of their size, every single business I have worked with during the past 2 decades claimed they saw a reason for needing an improved video strategy within their overall marketing plan. Over the years, the elements of this strategy have certainly changed as technology shifted from television to e-mail, to websites, to social media, and now live video within a variety of digital streams. But for some reason, executives/entrepreneurs are often surprised to learn the videos that will improve ROI in 2018 are very similar to those needed in 2008 and even 1998.
For the beginner to average social media-savvy business to create a great video strategy, it's as simple as 1, 2, 3. There are only 3 basic types of video needed (see the following list for details), 2 reasons people watch them (to be educated or entertained), and 1 very important way you can make sure your brand doesn't miss out on an easy way to improve social ROI in 2018 (again, read the list below).
Unfortunately, the executives most concerned with declining ROI are also typically the very same people who complain the most about investing in consistently updating these projects. But for those who are genuinely interested in helping their companies gain leads, revenue, and any other KPI you can think of this year, here are the most important videos to begin creating.

1. The Who You Are Video
What it is:
Think about the elevator pitch you give about your company. Now imagine screaming that pitch with confidence, while naked, in front of half a billion people, while riding a motorcycle backward, across a pit of sharks with laser beams on their head, in the middle of a feeding frenzy…while you're on fire.
This might seem a little far-fetched, but this is a semi-accurate portrayal of the attention-getting creative direction many successful companies are moving in order to make sure their elevator pitch is heard over endless digital clutter. The good news is social media makes it easy for anyone to put an elevator pitch online today. Unfortunately, the bad news is that unless your pitch stands out from competitors in some enticing way it will be glazed over quickly. Keep in mind, you should think of anyone on social media who takes attention away from your potential consumer as a competitor.
Why you need it:
If you are a small company, you can use your elevator pitch to reach potential consumers who have never heard of you before. If you are more established, then there are definitely up-and-coming small companies who studied what you did, figured out how to do it better, and are now using elevator pitches to gain the attention of your customers. Don't believe me? Ask Blockbuster Video, Circuit City, and Toys R Us Kids about their elevator pitch for social media…
How long it should be:

No less than 15 seconds and no longer than 60 seconds.
Where it goes:
Facebook Cover Photo
Facebook Evergreen A
2. The How-To Video
What it is:
If you think you know something about something, social media is a great place to tell people. Each day, billions of videos are watched by people hoping to learn something on social media. Some of the most popular searches on Google lead people to videos explaining 'How-To' do, improve, or learn about, well, something. But whatever that something is, if you can explain it better than the next person, and hope to find an audience willing to pay you for that something, then social media is a great place to find and grow that audience.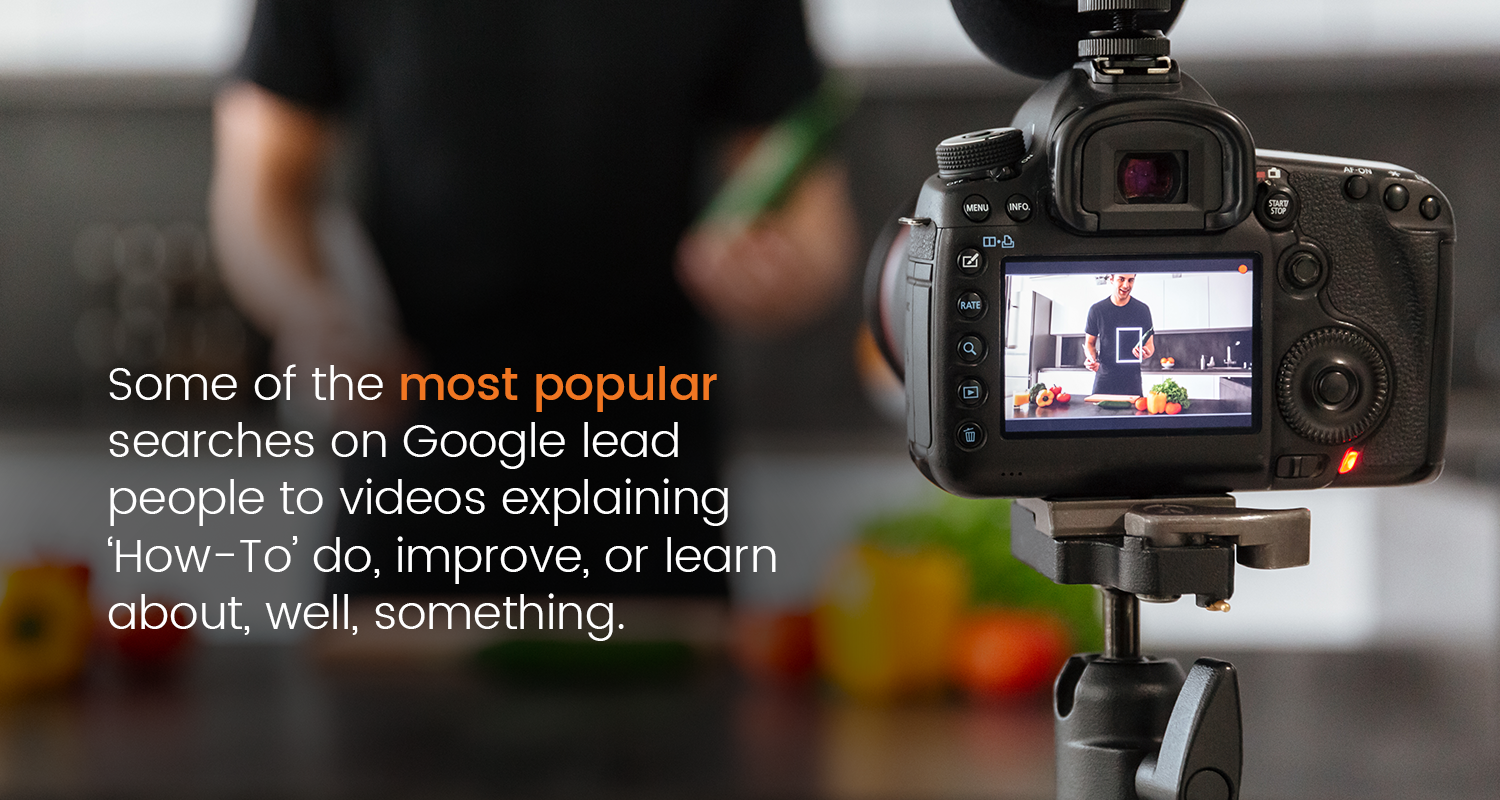 Why you need it:
The majority of consumers are becoming better and better at ignoring commercials and advertising in general. This is an important reason Facebook measures 3-second video views. You will only have that long to prove to a viewer that they should continue watching before the scroll on past your message.
Remember, the only two reasons people watch videos are to be entertained or educated. The best how-to video creators have figured out how-to do both of these things simultaneously. But at the very least, you should be able to help viewers feel like they are learning something new about your product, brand, or service by the end of most videos.
Most importantly, video is becoming a more common and trusted source of information across all digital platforms. Don't believe me? Type in a few questions on Google and look to see if and where video pops up? Increasingly, Google awards top videos with prime organic (that means FREE) placement on Page 1. If you don't want to do a How-To video, that's ok. Just make sure you are comfortable with a competitor's video gaining attention from your next potential client before they see you.
How long it should be:
No less than 60 seconds. Although these type of videos can run a lot longer depending on the engagement level of your audience.
Where it goes:
Youtube
Facebook Timeline
3. The Viral Video
What it is:
By this point in the century, most everyone can think of a 'viral video' that they liked and watched as its popularity exploded online.
These are the videos that seem to be so unique, so timely, and so doggone cool that people can't help but to share them with friends.
Why you need it:
Making a viral video is usually not an easy task for most businesses. But that shouldn't stop you from attempting to create a new, innovative concept each quarter. What many business owners and marketing managers don't understand is that viral videos are typically not unplanned. Sometimes, videos that appear to go viral instantaneously can take several days, weeks, or even months to plan.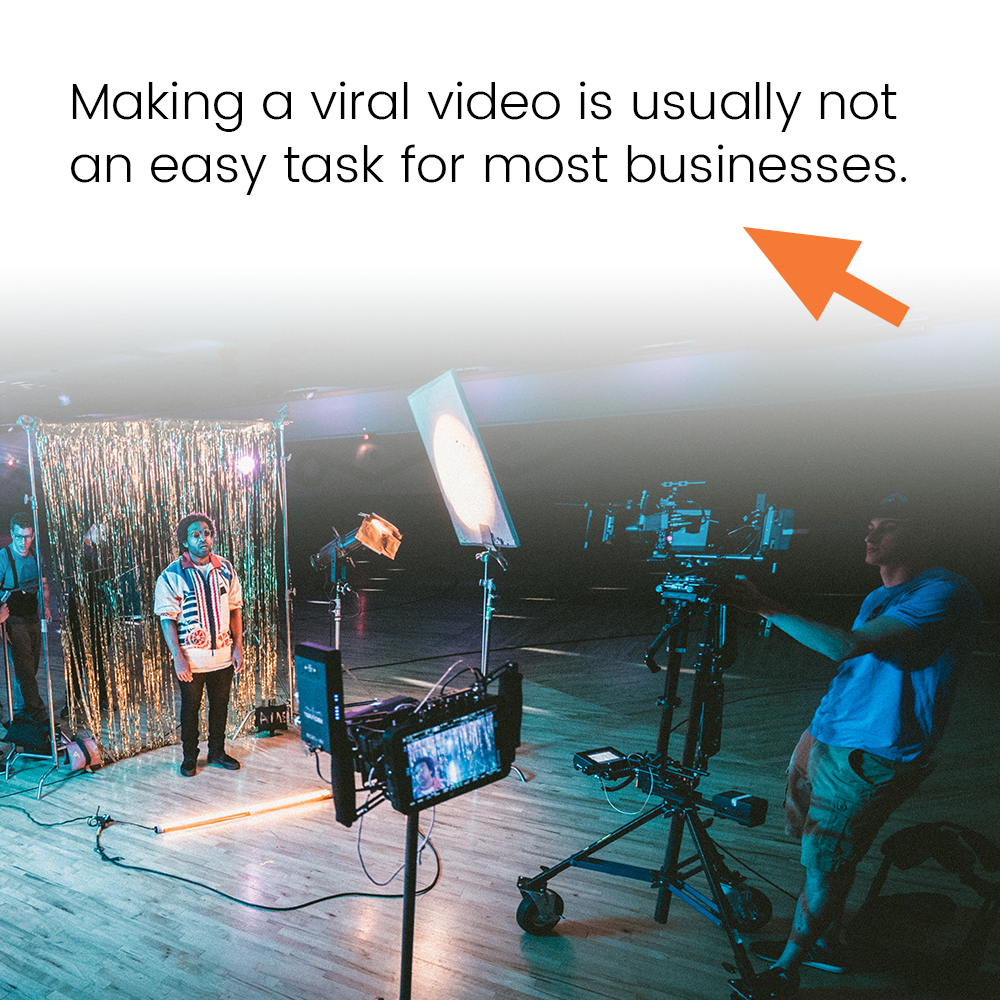 Need help planning a viral video concept? Click here to learn how Crosby Interactive can put this together 10, 30, and 60-day plan.
How long it should be:
Typically these are anywhere from 30-90 seconds. But the tricky thing about viral videos is that they are unpredictable so don't allow yourself to be stuck within constraining guidelines if you have a great idea.
Where it goes:
Facebook Timeline
Instagram
Sometimes Twitter, depending on your audience.
Snapchat is also great, but you really need to understand this platform before you invest a lot of time to creating video content for it.
*Bonus: Live Video*
What it is:
This is a great chance to engage with your audience in real-time. The key is to provide genuine value during live videos so your audience feels like there is a reason they should share that moment with you.
For example, many successful live video creators engage with their audience by speaking directly to them (oftentimes by name) and answer questions in real-time. This is also a great way to share an important moment from a conference, sporting event, or company meeting with the people who care most about your brand.
Why you need it:
Most social media platforms are providing higher organic reach for live videos in order to promote more engaging user-generated content.
How long it should be:
There's really no set time frame here. But remember, the attention-span of your audience must always be considered. If you are running live videos for more than a couple minutes, it better be worth someone's time to tune-in or else they won't give you a second glance next time.
Where it goes:
Facebook Timeline and Stories
Instagram Stories
Snapchat